Website Design & Development
Cape Publishing offers full-service website design and development, which means we take care of you from start to finish, from domain name registration to website hosting. We will create a custom website that is mobile-device compatible, optimized for all major search engines, enhances your brand image, integrates social media, runs on an easy-to-use content management system, and gets results.
Complete custom website design
Mobile websites through responsive design
Search engine optimization (SEO)
Content management systems (CMS)
E-commerce setup
Comprehensive website statistics and analytics
Get in touch with us
We would love to talk with you about your upcoming website project, whether you're brainstorming or ready to start.

Jessica Keeler
(609) 898-4500
Send an email
View Jessica Keeler's profile
---
Featured Designs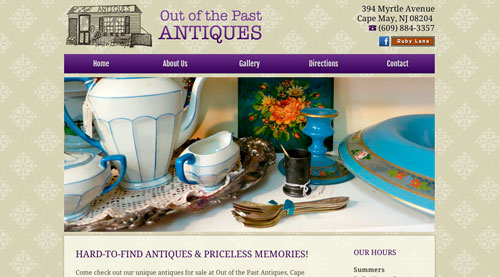 Out of the Past Antiques
Jeanne came to me with the idea of a website that looked professional and allowed her to show off featured items in her Cape May antique store. The design is responsive, so it's mobile device friendly.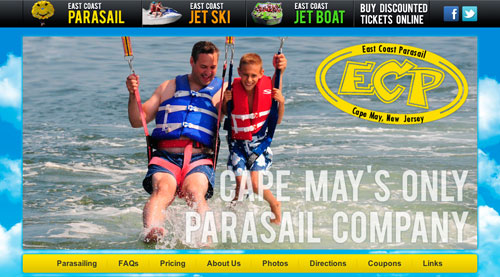 East Coast Parasail
Every year, Andy lets me gut and redesign his website, and this year's is my favorite to date. He rolled out a brand new adventure this year: East Coast Jet Boat, which is a high-speed, high-energy boat ride along the coast. This design is responsive, which works on any mobile device or tablet, and features online ticket sales.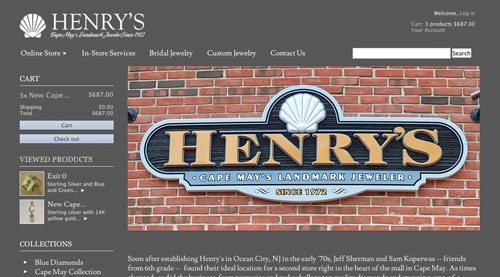 Henry's Landmark Jewelers
Henry's has become a destination on the Washington Street Mall, selling their signature Cape May bracelet designs and other locally crafted jewelry, alongside pieces equal to any major jewelry store. They wanted the ability to sell online, so we provided a robust shopping cart with a soothing blue and gray color scheme that left the jewelry as the star.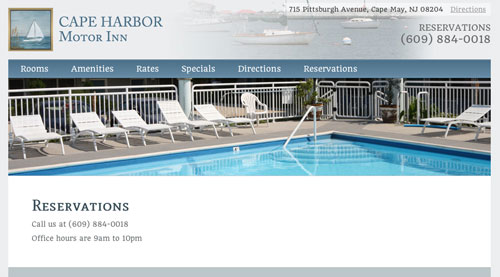 Cape Harbor Motor Inn
The original Cape Harbor website hailed from the days when clipart reigned, so it was time for a refresher with new photography and a clean design. This website features a responsive website design that detects the size of the browser (monitor, tablet, smartphone) and adjusts accordingly.
Pharo's Inn
This has to be one of my favorite projects, because the owners of Pharo's, Walt and Pat, are so much fun to talk to. No wonder they've been running their B&B for so long! The inn's previous website hurt them more than it helped, because it made them look 10 years' outdated. The new website still communicates the inn's historic past while presenting Pharo's as an attractive option among our bed and breakfast inns. This is a responsive website design that detects the size of the browser (monitor, tablet, smartphone) and adjusts accordingly.
Our clients